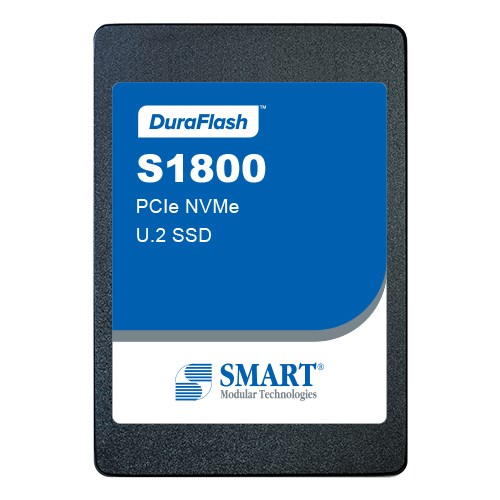 S1800 | PCIe NVMe | U.2 SSD
U.2 SSDs
SMART's DuraFlash S1800 PCIe NVMe U.2 products are robust SSDs with PCIe Gen3 x4 interface. These drives target server, storage cache/accelerators, networking, and data communications applications requiring reliable internal storage with a small footprint.

Utilizing PCIe Base 3.1 interface, and compliant to NVMe v1.3 specification, the S1800 PCIe NVMe U.2 modules are easily integrated into a host system without any special BIOS modifications or additional device drivers.

The S1800 products address the need for enhanced reliability by incorporating on-board error detection and correction and static wear-leveling algorithms to provide reliable operation over the product life cycle.

Essentials

S1800

3D TLC

PCIe Gen3 x4 NVMe 1.3
Performance

Up to 3200MB/s

Up to 1000MB/s

Up to 140K IOPS

Up to 220K IOPS

480GB
960GB
1920GB
3840GB
Reliability

480GB: 295TBW
960GB: 595TBW
1920GB: 1210TBW
3840GB: 2905TBW
(JEDEC® Enterprise Workload)

> 1,500,000 hours
Environmental

1500G half-sine, 0.5 msec, 1 shock along each axis, X, Y, Z in each direction

20G 80-2000Hz, 1.52mm 20-80Hz, 3 axis

C-temp: 0℃ to +70℃

-40℃ to +85℃

40℃, Operation: 90% RH, Storage: 93% RH
Physical

100mm

69.85mm

7mm