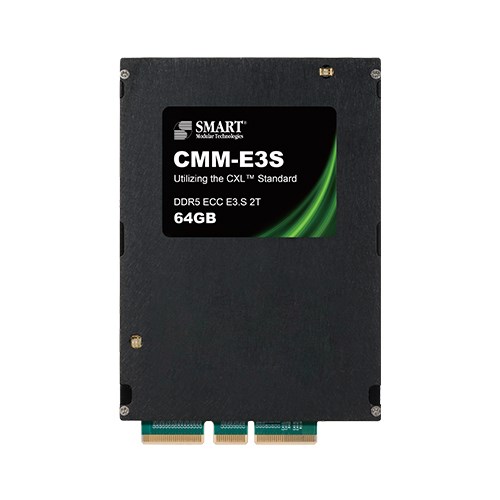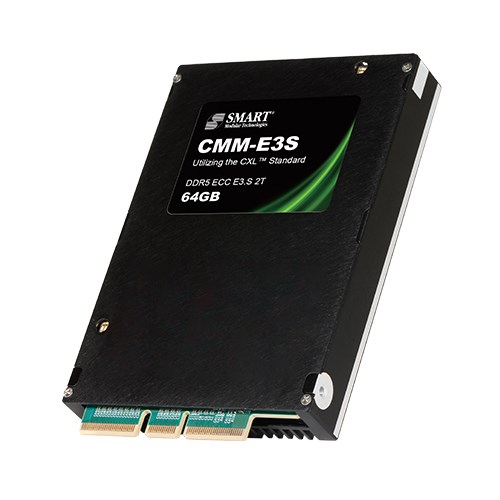 CMM-E3S
E3.S
The SMART CMM-E3S is a memory module utilizing the CXL® 2.0 standard in an E3.S form factor. The integrated controller supports a PCIe Gen5 x16 CXL interface and 64GB or 96GB of DDR5 DRAM.

Compute Express Link (CXL) is an open industry interconnect standard for providing high bandwidth and low latency. It adds connectivity between host processors, accelerators, memory devices, and network interface cards (NICs). CXL also enables memory expansion and acceleration across high-performance computational workloads for AI, ML, HPC, and communications segments.

SMART develops CXL Type 3 (CXL.mem) memory products to address the industry's need for more memory per processor core. The CXL interconnect specification allows for a significant expansion of memory form factor options leveraged from SSDs.

Essentials

DDR5

E3.S 2T

2.0

C-temp: 0˚C to 70˚C
Performance

64GB
96GB

63.0 GBps

2 x (1 x 80b)
Environmental

Yes
Physical

76.00 (W) x 112.75 (L) x 16.80 (H) mm