Introduction
Gen-Z™ is a scalable computing interconnect protocol, which provides a disaggregated approach for solving problems of increasing demand for Memory and Computing. Unlike other protocol, Gen-Z re-uses the existing physical layers of Ethernet and PCIe protocols, but redefines its own Data-link (MAC) and transport layer packet formats and command structures.
This allows Gen-Z to achieve very low latency and high throughput for data-transfers in cache-line granularity over existing cables and connectors as used in Ethernet or PCIe.
SMART is active member of the Gen-Z Consortium and one of the first in the technology industry to emerge with products enabling development of an eco-system around the Gen-Z protocol.
Benefits
There are multiple benefits of moving to a disaggregated system where memory and compute resources are physically in separate racks.
The Hardware challenge: PCB real estate is saturated
Motherboards do not have any room left to add more DDR DIMM slots. New high-speed parallel protocols require complex PCB design techniques and use of exotic material for manufacturing, which adds burden on hardware manufacturers. Therefore, there is an industry trend to use serial interfaces for memory expansion.
Gen-Z's approach:
Allows concatenating memory resources, which are physically located outside the box, even on different racks. This eliminates need to adding more memory inside the box, frees space on PCB, and lowers cost of manufacturing.
Decouples CPU interface from underlying memory technology, allowing users to upgrade CPU at independent cadence, without being tied to any particular vendor or architecture or CPU
Enables mixing combination of memory technology whether direct attached, persistent memory like Storage Class Memory (SCM), or pure NAND Flash storage media
Removes tight timing requirements such as direct attached parallel memory interfaces like DDR4 and DDR5
The Software challenge: Workloads are changing
Latest HPC models and AI/ML algorithms require large pool of memory to store intermediate data sets. These data sets require concurrent access from multiple compute nodes.
Gen-Z approach:
Memory and compute resources are pooled and shared across the rack, enabling application to use resources spread across the data-center
Re-define data-link layer and transport layer protocols from scratch to achieve round-trip latency within few micro-seconds across the network
Provide direct addressing of the distributed physical memory, eliminating operating system and device driver overhead. CPU cores spend more time executing end applications
Ensure reliable and secure data transfer at cache level granularities for memory load and store semantics
Advance features like collectives and Atomics allow processing the data at the source, saving costly buffer copies
The Cost challenge: Getting the value out of your investment
With continuous innovation, it is difficult to identify technology that will last and endure for decades and provides complete return of your investment like Ethernet has. Most new protocols require new hardware or upgrade of existing infrastructure.
Gen-Z's approach:
Reuses existing physical infrastructure of IEEE 802.3 Physical layer, which same as used in Ethernet, for memory load and store semantics
Eliminates any infrastructure changes to data-center power and cabling
Enable sharing and re-allocation of memory and compute resources where there is a need. This saves data-center administrators from over provisioning their system for future needs, and lowers Total cost of ownership (TCO)
Products
1. Gen-Z Micro Development Kit (µDK)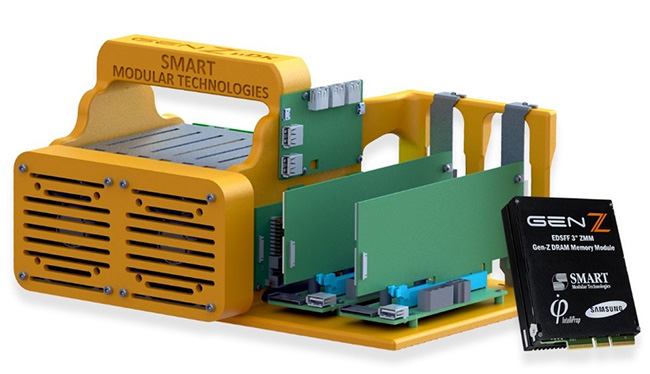 The Gen-Z Micro development kit is a standalone platform that comes with all hardware and software components required to run the Gen-Z protocol out of box. This micro-development kit is useful for:
Hardware engineers to design and prototype their own hardware like Gen-Z compatible bridge or switch
Software developers to develop device drivers and develop software framework for Gen-Z eco-system
System Architects to evaluate latencies and explore new features like collectives and coherency in fabric attached memory
[Video] Platform Software Development Kit for Gen-Z Enablement
[Videos] Gen-Z Consortium Webinars
Reading Material
[Technical Brief] SMART Gen-Z Micro Development Kit (µDK)
Future of Persistent Memory DRAM and SSD Form Factors Aligned with New System Architectures
2. Gen-Z Memory Module (ZMM)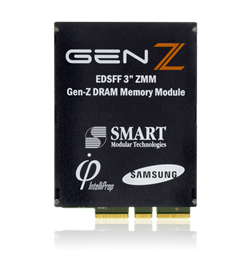 SMART Modular's ZMM are high-density memory modules in a standard EDSFF E3.S form-factor for Gen-Z prototyping and production deployment. ZMM memory modules come in various capacities up to 256GB capacities of DDR4 memory. This enables server manufacturers to add high speed, low-latency memory freeing up their DDR slots, without sacrificing latency or throughput.
Reading Material
[Product Brief] SMART Gen-Z Memory Module
Solutions
In-Memory Analytics
Similarity Search
Large-Scale Graph Inference
Financial Modeling