Terabytes of PCIe attached memory tiered between DRAM and NAND flash

Introduction
SMART Modular built a new class of persistent memory capable PCIe Addin-card that enable memory expansion and acceleration capabilities using Intel Optane PMem DIMM and Intel FPGA.
Product
Benefits​
• Up to 2TB of persistent memory expansion on PCIe-Gen4-x16 or PCIe-Gen3-x16 interface
• Accelerate selected algorithms through offloading for software-defined storage functions from Host CPU to FPGA
• Supports multiple memory technologies like Intel Optane PMem DIMMs and DDR4 DIMMs
• Memory expansion and acceleration independent of motherboard (system) CPU
• Field upgradeable for new algorithms, protocols, and providing full return on your investment.
Reading Material
[Technical Briefs] Kestral_FPGA_Accelerator_with_Intel_Optane_PMem_DIMMs
Future of Persistent Memory DRAM and SSD Form Factors Aligned with New System Architectures
Key Features​
Feature
Description
Host Interface

PCIe Gen3/Gen4 x 16

Memory
• Four DDR4 DIMM Slots (2 x 2 DIMMs Per Channel)
• Up to 2TB Intel Optane Persistent Memory DIMM or up to 512GB DDR4 RDIMM
Form Factor
FHHL (Full-Height Half-Length) Dual Slot
Description
• Intel Stratix-10 DX FPGA
• Optional HPS/Quad core ARM A53
• 8GB eMMC
• Additional 2GB on-board DDR4 ECC
Power
• < 75W TDP for Memory Expansion use-case
• < 100W TDP for Memory Acceleration
Cooling
Passive with 45CFM airflow required

Kestral for Memory Expansion

Enables all platforms to benefit from high density Intel Optane Persistent memory, and leveraging acceleration capabilities of Intel FPGA.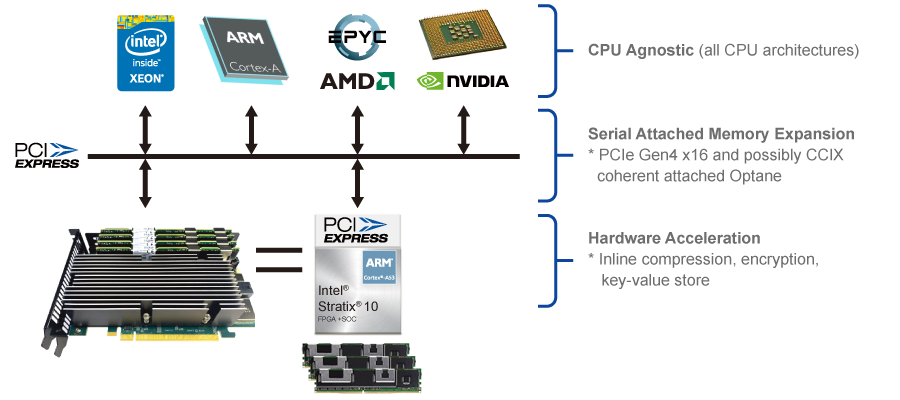 Kestral for Memory Acceleration or Storage Cache
Offloads selected algorithms from the Host CPU by moving the compute near the data, to enable parallel execution of data-intensive algorithms.

Ordering Information
For more information on the SMART's Kestral PCIe Optane AIC, please Contact Us.