Terabytes of PCIe attached memory tiered between DRAM and NAND flash

Introduction
SMART Modular has designed a new class of persistent memory capable PCIe Add-In card that enables memory expansion and acceleration capabilities using Intel Optane PMem DIMM and Intel FPGA
In most architectures, data is copied from far memory or storage to a local memory for processing. However, when the size of data is in order of 100s of Giga Bytes, it is efficient to move static compute functions near Data, instead of copying the bulky data near compute. This is concept of moving the compute near the memory or building a compute engine inside the Memory device is called "Processing in Memory" or "Computational Memory" Static functions like compression, sorting, search and encryption, can be offloaded to the Memory hardware module. These hardware engines can filter the data near the source before being consumed by heavy compute engines like GPU and multi-core CPU.
Offloading of static functions to Memory device not only reduces the wasteful copy and discard approach, but also improves efficiency and frees the bus for other performance critical workloads. The Kestral, utilizing an Intel OptaneTM PMem based accelerator, attaches up to 2 Tera Bytes of Memory to single PCIe Gen 4.0 interface. Attaching such large pool of memory Memory to PCIe Gen 4.0 serial bus gives dual advantages of enabling Memory expansion, freeing critical DDR slots for high bandwidth interfaces like DDR5 DIMMs.
Product
Benefits​
• Up to 2TB of persistent memory expansion on PCIe-Gen4-x16 or PCIe-Gen3-x16 interface
• Accelerate selected algorithms through offloading for software-defined storage functions from Host CPU to FPGA
• Supports multiple memory technologies like Intel Optane PMem DIMMs and DDR4 DIMMs
• Memory expansion and acceleration independent of motherboard (system) CPU
• Field upgradeable for new algorithms, protocols, and providing full return on your investment.
Key Features​
Feature
Description
Host Interface

PCIe Gen3/Gen4 x 16

Memory
• Four DDR4 DIMM Slots (2 x 2 DIMMs Per Channel)
• Up to 2TB Intel Optane Persistent Memory DIMM or up to 512GB DDR4 RDIMM
Form Factor
FHHL (Full-Height Half-Length) Dual Slot
Description
• Intel Stratix-10 DX FPGA
• Optional HPS/Quad core ARM A53
• 8GB eMMC
• Additional 2GB on-board DDR4 ECC
Power
• < 75W TDP for Memory Expansion use-case
• < 100W TDP for Memory Acceleration
Cooling
Passive with 45CFM airflow required

Kestral for Memory Expansion
Enables all platforms to benefit from high density Intel Optane Persistent memory, and leveraging acceleration capabilities of Intel FPGA.

Kestral for Memory Acceleration or Storage Cache
Offloads selected algorithms from the Host CPU by moving the compute near the data, to enable parallel execution of data-intensive algorithms.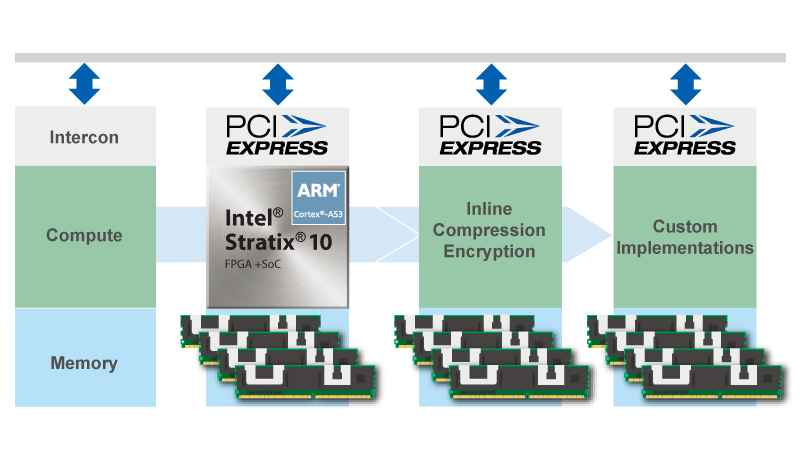 Reading Material
Technical Briefs — Kestral FPGA Accelerator with Intel Optane PMem DIMMs
Review — Tom's Hardware Review
Review — Blocks & Files Review
PR — Business Wire Press Release
The Intel® Partner Alliance is a program designed to enhance the program value, relevance and the experience of Intel Partners. The unification of this programs allows Intel and its partners to continue driving the industry to innovative solutions with powerful technology.
Ordering Information
For more information on the SMART's Kestral PCIe Optane AIC, please contact sales or product team at info@smartm.com.