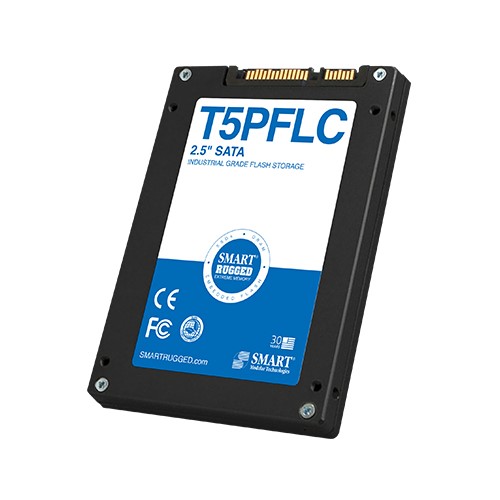 T5PFLC 2.5" SATA SSD
T Series
SMART Modular Technologies' T5PFLC 2.5" SATA solid state drives (SSDs) deliver high performance, high capacity storage solutions optimized for commercial, industrial and other applications requiring durable and secure storage. The T5PFLC also comes equipped with FIPS 140-2 encryption capabilities.

Powered by a flexible flash controller, T5PFLC SSDs provide sustained read/write performance to meet the needs of high throughput database applications, as well as transactional and boot and load applications.

T5PFLC SSDs offer up to 2TB of storage using 3D TLC NAND Flash. They are more reliable, offer superior performance, and require less power and cooling than traditional hard disk drives (HDDs).
Essentials

T5PF

3D TLC

SATA 3.0 6Gb/s
Performance

Up to 500MB/s

Up to 470MB/s

Up to 50K IOPS

Up to 48K IOPS

120GB
240GB
480GB
960GB
1920GB
Reliability

Up to 2,800 TDW

> 2,000,000 hours
Environmental

50g half-sine, 11 ms, 3 shocks along each axis, X, Y, Z in each direction

16.4 g rms 10-2000 Hz random, 3-axes

C-temp: 0℃ to +70℃
I-temp: -40℃ to +85℃

-55℃ to +95℃

5% to 95% non-condensing
Physical

100mm

69.85mm

7mm
| | | |
| --- | --- | --- |
| HRJA2F1920HC001 | 1920GB | C-temp (0˚C to +70˚C) |
| HRJA2F1920HI001 | 1920GB | I-Temp (-40˚C to +85˚C) |
| HRJA2F0960HC001 | 960GB | C-temp (0˚C to +70˚C) |
| HRJA2F0960HI001 | 960GB | I-Temp (-40˚C to +85˚C) |
| HRJA2F0480HC001 | 480GB | C-temp (0˚C to +70˚C) |
| HRJA2F0480HI001 | 480GB | I-Temp (-40˚C to +85˚C) |
| HRJA2F0240HC001 | 240GB | C-temp (0˚C to +70˚C) |
| HRJA2F0240HI001 | 240GB | I-Temp (-40˚C to +85˚C) |
| HRJA2F0120HC001 | 120GB | C-temp (0˚C to +70˚C) |
| HRJA2F0120HI001 | 120GB | I-Temp (-40˚C to +85˚C) |