Introduction
DDR4 NVDIMM have unique performance benefits of low-latency and high performance. They also feature the near infinite endurance of DRAM with fast recovery in case of system power loss.
Reading Material
[Memory Technology] Persistent Memory for Artificial Intelligence and Machine Learning Applications - By Arthur Sainio, EE Times, October 2020
[White Paper] Persistent Memory NVDIMM-N and Optane™ DC DIMM™
[Product Brief] SMART Modular DDR4 NVDIMM
Future of Persistent Memory DRAM and SSD Form Factors Aligned with New System Architectures
Product
SMART Modular's DDR4 NVDIMMs combine non-volatile memory functionality with high speed DDR4 DRAM technology. DDR4 NVDIMMs provide a persistent memory solution to significantly accelerate application performance in server and storage appliances.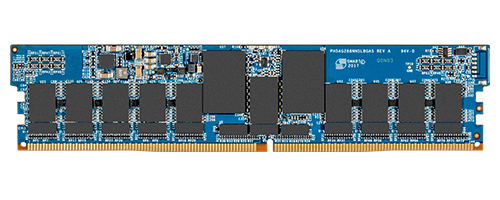 Features & Benefits
Fits standard 288-pin DIMM socket
During normal operation, NVDIMM will function as a standard RDIMM module
During a power loss, the contents of the DRAM are automatically backed up to Flash
NVDIMM with Encryption also offered as an option
Specifications
| Part Number | ST4097NJ44D472SB | ST2047NJ42041HD | ST2047NJ420493SC |
| --- | --- | --- | --- |
| Density | 32GB | 16GB | 16GB |
| Module Configuration | 4Gb x72 | 2Gb x72 | 2Gb x72 |
| Device Configuration | 2Gx4 | 2Gx4 | 2Gx4 |
| Voltage | 1.2V | 1.2V | 1.2V |
| Height | 31.25mm | 31.25mm | 31.25mm |
| Speed | 2400MT/s | 2933MT/s | 2666MT/s |
| Operating Temperature | 0˚C to +70˚C | 0˚C to +70˚C | 0˚C to +70˚C |
| Command Set | JEDEC | JEDEC | JEDEC |
Applications
High performance servers
Database and analytics servers
High performance replacement for existing NVRAM PCIe cards
Journaling & check-pointing for In-memory databases
Real-time response in financial trading & social media
High Performance Storage Servers
SAN appliances and arrays
NAS filers
Distributed storage systems
High performance replacement for existing NVRAM PCIe cards
Tiering and caching
Meta data storage
SSD address mapping table
Relational Database
Scale-Out Storage
Virtual Desktop
Infrastructure
Big Data
In Memory
Database
Midleware
Storage
MSFT SQL
VMware® VSAN™
VmWare VDI
mongoDB®
SAP® HANA
Java™
HP StoreVirtual
MySQL®
MSFT Azure
Citrix® HDI
Cloudera®
MSFT SQL Hekaton
.NET
Maria DB
Store Virtual
Hortonwork®
XAP GigaSpaces
Otomizes and Abstract NVM
Oracle®
Hadoop®
Cassandra®
MSFT SQL Hadoop
NVDIMM Backup Power Modules
Part Number
Form Factor
DDR4 NVDIMM Supported
Product Image
STCA8062SMTH061B
2.5"
32GB
STCA8062SMTH062B
2.5"
Two 16GBs
STC22041SMTD051B
2.5"
16GB
STC48042SMTDE81BVG
HHHL PCIe (Half-Height Half-Length)
32GB
STC48042SMTDE82BVG
HHHL PCIe (Half-Height Half-Length)
Two 16GBs
STC54061INTH011B
Half-Width (Hybrid)
16GB
STC36041INTH011B
Half-Width (Hybrid)
8GB
STC54061SMCH021B
Half-Width Low-Profile (Hybrid)
16GB
SSC24041SMCD011B
Half-Width BPM (SuperCap)
16GB
Secure Storage Technologies
SafeStor™ Technology
SMART's DDR4 NVDIMMs feature proprietary SafeStor™ technology, the engine which initiates backup and restore operations from the host controller
The NVDIMMs also support multiple command delivery options to trigger SafeStor™ backup during a host detected power outage and recovery event
The SafeStor™ engine also employs multi-channel, fast NAND and high speed switching circuitry to provide robust backup and restore capability, all while functioning as a JEDEC standard DDR4 or DDR3 RDIMM during normal operation
NVDIMM with Encryption
For financial industry and other applications where protecting data on the NVDIMM is critical
IEEE developed AES-XTS 256 standard is used to encrypt data
Key must be supplied by host during POST through the 12C interface to support backup with encryption
AES-XTS encryption may be enabled or disabled through an NVDIMM 12C registe
Ordering Information
For more information on the SMART's Persistent Memory NVDIMM products, please Contact Us.