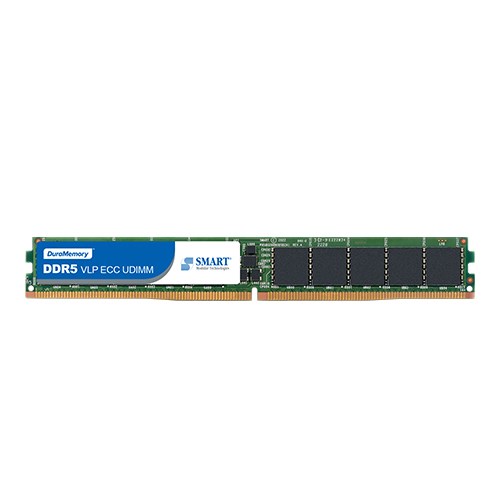 DDR5 VLP ECC UDIMM
DDR5
SMART Modular Technologies' DDR5 VLP ECC UDIMMs are for 1U blade servers used in telecom, network, compute and storage applications. The key advantages of DDR5 VLP ECC UDIMMs are height, density, power, and performance. ECC memory (Error Correction Code memory) is needed for mission critical applications where each bit of data is important and cannot be lost.

For ruggedized and harsh operating conditions, SMART offers industrial grade temperature operation (-40°C to +85°C), anti-sulfur resistors (ASRs), underfill, conformal coating and retention clips to secure the socket latches in place.

The 16GB and 32GB VLP ECC UDIMMs are the newest product added to SMART's wide portfolio of blade memory modules that target all types of very dense computing, storage, networking and telecom applications.

Essentials

DDR5

VLP ECC UDIMM

C-temp: 0˚C to 70˚C
I-temp: -40˚C to 85˚C

2Gx8

2Gb
4Gb
32Gb

x72

1.1V

288-Pin
Performance

16GB
32GB
4800MT/s
5600MT/s
PC5-38400
PC5-44800
CL = 40
CL = 46
Environmental

Yes
Physical

18.75mm