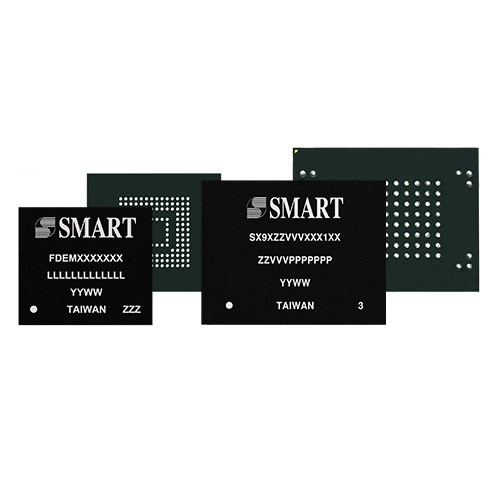 BGAE440 eMMC (153-ball/100-ball BGA) - SP9LEGR1AWI01
DuraFlash™ BGA
SMART's DuraFlash™ BGAE440 eMMC product family is an embedded memory solution that combines NAND Flash Memory, an embedded MMC (MultiMediaCard) controller, and advanced firmware in a small BGA (Ball Grid Array) package that provides a stable, yet cost effective high-density embedded storage.

eMMC can simplify system design because of the widely adopted JEDEC® eMMC standard interface in host system chipsets and operating system software driver support.

DuraFlash BGAE440 eMMC is compliant to eMMC v5.1 specification and is available in the standard JEDEC 0.5mm pitch, 153-ball BGA package as well 1.0mm pitch, 100-ball BGA package. The 100-ball package offers larger ball pitch and ball diameter which enables lower cost PCB designs and simplifies PCB routing with wider metal traces.
Specifications
Essentials

BGAE440

3D TLC

eMMC v5.1

153 ball
100 ball
Performance

Up to 315MB/s

Up to 235MB/s

Up to 10K IOPS

Up to 2.4K IOPS

16GB
32GB
64GB
128GB
256GB
Reliability

16GB: 3TBW
32GB: 6TBW
64GB: 12TBW
128GB: 24TBW
256GB: 48TBW
(JEDEC® Enterprise Workload)
Environmental

1500G half-sine, 0.5 msec, 1 shock along each axis, X, Y, Z in each direction

20G 80-2000Hz, 1.52mm 20-80Hz, 3 axis

E-temp: -25℃ to 85℃
I-temp: -40℃ to 85℃

-40℃ to 85℃

40℃, Operation: 90% RH, Storage: 93% RH
Physical

11.5mm (153 ball)
14mm (100 ball)
13mm (153 ball)
18mm (100 ball)
1.2mm (153ball)
1.4mm (100ball)