Leveraging its small form factor, high capacity, test and treatment processes, SMART's new industrial grade SO-DIMM is ideal for rugged applications exposed to extreme environments.
NEWARK, CA, May 7, 2019 — SMART Modular Technologies, Inc., a subsidiary of SMART Global Holdings, Inc., (NASDAQ: SGH), and a leader in specialty memory, storage and hybrid solutions including memory modules, Flash memory cards and other solid state storage products, today announced a new addition to its SMART RUGGED™ product offering, a 32GB industrial grade SO-DIMM. This new small form factor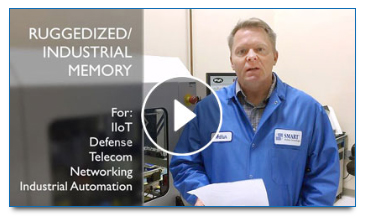 memory module is targeted for ruggedized computing applications used in the defense, industrial, transportation, public safety and other similar segments. Because of its large 32GB capacity, this industrial grade SO-DIMM is ideal for large computing applications that are exposed to extreme operating environments.
There's a growing necessity for use of ruggedized mobile computing devices in the field. Ruggedized tablets support public safety personnel where emergency medical technicians, firefighters and police officers have multiple workflows that can be streamlined and facilitated solely by rugged tablets. Today's rugged tablets can withstand just about any attempted infliction due to their water-, dust- and extreme temperature-resistant design. SMART's 32GB industrial grade SO-DIMM is an ideal component for these popular rugged tablets which is just one of many application examples.
The SMART RUGGED 32GB SO-DIMM undergoes a rigorous industrial grade test process which includes a cold boot at -40°C, ramping up to +85°C ambient operation. These modules are also tested at a high utilization rate while being subjected to this industrial grade temperature range. SMART utilizes customized test boards that expose the memory modules to temperature variations while running at high speed. The high utilization test software ensures that all cells in the DRAM components are fully stressed through the entire temperature cycle. As the data is being collected over a 10-hour test cycle, the weak modules can be removed further ensuring reliability in the field.
Another critical element in the protection of SMART's SO-DIMMs used in harsh operating environments is the use of underfill and conformal coating, which provides protection from shock, vibration, humidity, moisture and harsh chemicals in the air. SMART's DDR4 32GB industrial grade SO-DIMM can be operated in environments from -40°C to +85°C at DDR4-2666 speed grade and are offered in ECC and non-ECC configurations.
SMART will be showcasing its entire line of SMART RUGGED Extreme Memory products at Sea-Air-Space Exposition 2019 from May 6-8 at Gaylord National Convention Center in National Harbor, MD in the main exhibit hall at booth 1051. Attendees are encouraged to visit each stand to learn about SMART's new SMART RUGGED line of ruggedized products and other specialty product options.
About SMART Modular Technologies
Serving industry for over 30 years, SMART Modular Technologies is a global leader in specialty products including memory modules, solid state storage products and hybrid solutions which are critical to electronic devices and are available in standard, custom and ruggedized, high performance, high capacity applications. SMART Modular delivers solutions to a broad customer base, including OEMs in computing, networking, communications, storage, mobile, military, aerospace and industrial markets. Focused on providing extensive customer-specific design capabilities, technical support and value-added testing services, SMART collaborates closely with their global OEM customers throughout the design process and across multiple projects to create solutions for demanding applications with differentiated requirements. SMART is a pioneer of secure, ruggedized solid state drives (SSDs) incorporating additional attributes such as encryption, secure data elimination and write-protect features required in the high-performance military, aerospace and industrial markets. Taking innovations from the design stage through manufacturing and supply, SMART Modular has developed a comprehensive product line comprised of DRAM, Flash and hybrid memory and storage technologies across various form factors. SMART Modular is a subsidiary of SMART Global Holdings, Inc.
See www.smartm.com for more information.
Connect with SMART on LinkedIn at LinkedIn.
# # #
SMART Media Contacts:
United States
Arthur Sainio, Director of Product Marketing
SMART Modular Technologies
+1 (510) 624-8126
arthur.sainio@smartm.com
EMEA
Rhianna Bull, Account Manager
Napier Partnership Limited
+44 (0) 1243 531123
rhianna@napierb2b.com