SMART's DDR4 Differential DIMM (DDIMM) is a leading-edge transformative memory module that enables a data throughput rate of 25.6GB/s with a latency of 40ns and densities up to 256GB. The new 84-pin DDR4 DDIMM is intended for use in standard server environments. It utilizes a serial interface and a differential Data Buffer (dDB) from Microsemi. The DDIMM supports IBM's P9 prime (P9P) and P10 processors' memory attached architecture. Diagram below.
DDR4 Differential DIMM (DDIMM)
Features and Benefits
Throughput of 25.6GB/s
Latency of 40ns
Serial interface
High speed data transfer rates
High density up to 256GB
Applications
Data centric and hybrid computing
Servers and data centers
Supports IBM's P9 with Advanced IO (AIO)
Specifications
---
SMART Modular is part of a growing roster of technology organizations that are contributing to the OpenCAPI Consortium and driving data center server innovation. Through the Consortium, members are working collaboratively to innovate on top of OpenCAPI, a high performance coherent bus standard designed to help the technology industry work to better meet growing demands for more advanced memory, accelerators, networking and storage technology.
Accelerators:
The performance, virtual addressing and coherence capabilities allow FPGA and ASIC accelerators to behave as if they were integrated into a custom microprocessor.
Coherent Network Controller:
OpenCAPI provides the bandwidth that will be needed to support rapidly increasing network speeds. Network controllers based on virtual addressing can eliminate software overhead without the programming complexity usually associated with user level network protocols.
Advanced Memory:
OpenCAPI allows system designers to take full advantage of emerging memory technologies to change the economics of the data center.
Coherent Storage Controller:
OpenCAPI allows storage controllers to bypass kernel software overhead, enabling extreme IOPS performance without wasting valuable CPU cycles.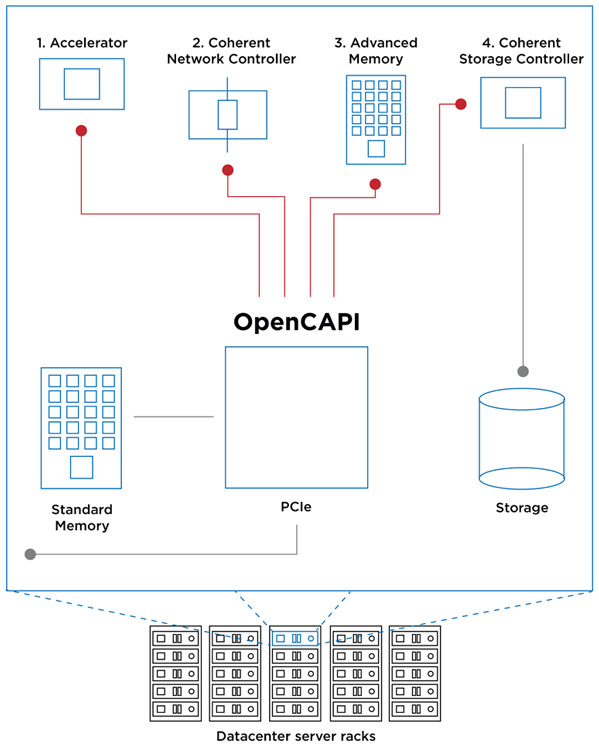 For more information on the OpenCAPI platform and SMART's Differential DIMM (DDIMM) products, please contact us.