The global economy began to slow down in the second half of 2022. With issues such as war, inflation, and Covid, the economy expects to be just as rough at the start of 2023. Decreased consumer demand severely impacts almost every IT product segment. The market shift creates challenges, such as high inventory and low pricing, particularly for memory chip makers in the semiconductor industry. Despite a pessimistic outlook on consumer-oriented IT products and smartphones, the demand for AI, 5G and data center applications are increasing. In turn, the server segment potentially becomes the silver lining of the memory market. Here are market updates and price projections for three major applications.
Server Market
"Slow demand extends to Q1, 23' "
Q4, 22' Demand & Supply
Demand to Top 4 D/C (Meta, Microsoft, Alphabet, Amazon) expected to slightly increase by 1-2% in Q4
China branded server demand is slowing down. Inspur, the largest server supplier in China, dropped 9% in Q4
HPE and Dell have declined nearly 10% due to slow demand
Q1, 23' Pricing Outlook for Server DIMM
Low density 16GB & 32GB has hit cash cost so no room for concession
Mid density 64GB still offers partial concession by demand
High density 128GB is expected to remain stable since supply is under control
PC/NB Market
"Still not promising in consumer market in Q1,23' "
Q4, 22' Demand & Supply
New CPU release delayed to 1st half of 2023
High inventory of old parts hindered the speed of switching to new platforms
Average demand declined over 10% among all NB segments
Q1, 23' Pricing Outlook for PC/NB DIMM
Price still dropping. No estimated bottom
Traditional off-season is expected to impact consumers in Q1,23'
Capex cut from suppliers has mitigated the downward slope, but has yet to create an effective defense against inflation
Mobile Market
"2022 smartphone declines 10-13% from 2021. 2023 YoY forecast expects 2% growth."
Mobile consumes approximately 35% of overall NAND consumption
2022 smartphone shipment forecast adjusts downwards from 1,380Mu to 1,190Mu by year end
DRAM Sufficiency Project
Worldwide DRAM supply was expected to reach a peak in Q4, 22', extending to Q2, 23'. No significant demand is seen before Q1, 23' but an ease on oversupply may be expected after Q2, 23'.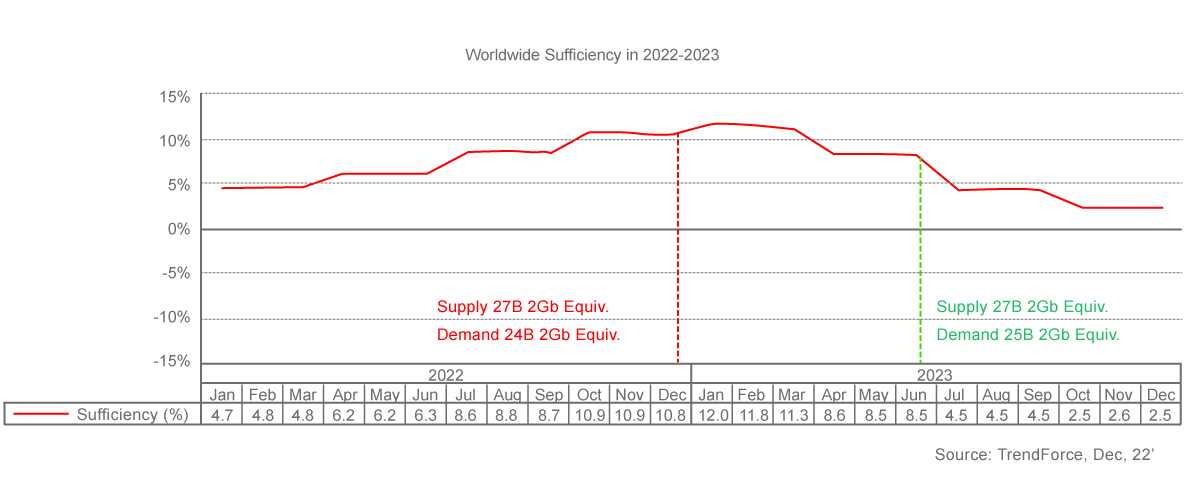 NAND Sufficiency Project
NAND Flash pricing went down in 2022, caused by slow-moving smartphone and consumer markets. The situation may not improve until the overall economy is recovered by ease in inflation
Major NAND makers cut down wafer production in early Q4, 22' to cope with overall economic impact. In terms of bit growth rate in 2023, it's estimated to reduce to 24% from 30% in 2022 before demand catches up
A mitigation, led by peak season of data center and mobile markets, is foreseen in the middle of 2023
*This article was compiled by SMART Modular using data sources from market reports by TrendForce, DIGITIMES, and IDC.