SMART Gen-Z Micro Development Kit (µDK)

SMART Modular Technologies' Gen-Z scalable computing interconnect protocol provides a simplified interface based on memory semantics and is designed to handle advance workloads, enabling data centric computing with scalable memory pools and resources for real-time analytics and in memory applications.
The Gen-Z standard was developed to enable new solution architectures for delivering high levels of performance (high-bandwidth, low-latency), software efficiency, power optimizations, and industry agility.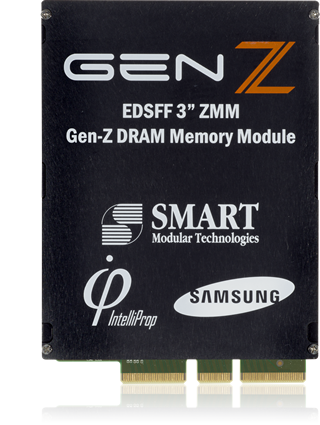 Why the ZMM?
New Type of Design Challenge
The increase in number of CPU cores has not been matched by an increase in memory bandwidth leading to memory bandwidth starved CPU cores. By being able to support more memory interfaces and memory modules, Gen-Z serial attached ZMM memory increases memory bandwidth per core increasing system performance.
Gen-Z ZMM memory provides load store direct addressing to memory by applications eliminating operating system and device driver overhead. CPU cores spend more time executing end applications.

​
Workloads Are Changing
Latest HPC models and AI/ML algorithms require large pool of memory to store intermediate data sets. These data sets require concurrent access from multiple compute nodes. Thus such workloads need large pool of shared memory, independent of any compute node.
New Generation of Hardware
As network speeds are increasing, the latency difference between local attached memory and remotely accessible memory is decreasing. Addition of specialized hardware accelerators running cache coherent protocols is reducing the latency gap.
Features and Benefits
Lowest latency for Writes
No other interference from other IO traffic
Inter-DIMM interface to support distributed applications
Applications
In-Memory Analytics
Similarity Search
Large-Scale Graph Inference
Financial Modeling
Specifications
Gen-Z, ZMM
SMART Part Number
Density
Form Factor
Device Config
STZAB25G7B4Q36SM
256GB
Gen-Z 3.0" Form Factor 4C-SFF-TA-1008/9
(104.90 x 76.00 x 16.80mm)
x64 + 8 bit ECC) dual rank DDR4
STZAB64G7B4S36SA
64GB
KZAB25G7B4Q36SM0X
Base Micro Development Kit without Orthus